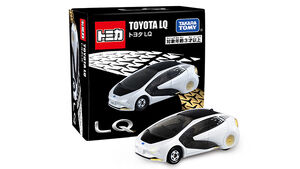 Toyota LQ (トヨタLQ) is a special Tomica. It is primarily released in Japan.
Overview
The Toyota LQ was released March, 2020. It was previously displayed at the Tomica booth at the 2019 Tokyo Motor Show, but was not sold there.
Description
The toy includes the main figure of the Toyota LQ.
It is a 1/62 model of the real-life vehicle. It has working suspension.
Trivia
Gallery
Videos
Links
References
External Links